Pink Tourmaline (MEDIUM) Tumbled Stone - Love, Inspiration and Supportive - Crystal Healing
---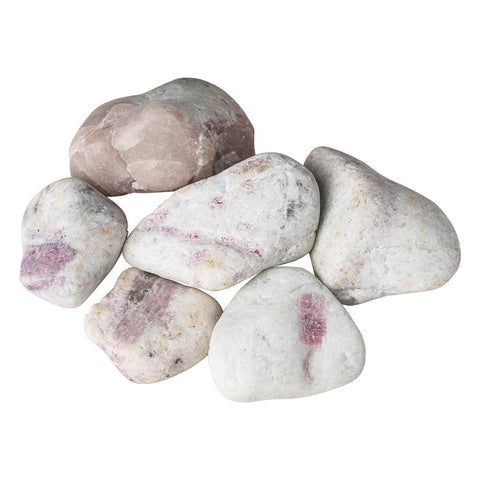 or make 4 interest-free payments of $1.25 AUD fortnightly with
More info
Pink Tourmaline, also called Rubellite, can remind you that you must love yourself, in order to be able to truly love another.
Protective Pink Tourmaline is said to attract friendship and promote empathy for others.
Sensitive types enjoy Pink Tourmaline for its loving way of enveloping you in unconditional love.
Pink Tourmaline brings cognitive awareness and experience of Universal Love.
Pink Tourmaline opens and brings a higher vibration to the Heart Chakra.
It is a very positive crystal, and is supportive of those who work with it, bringing strength during any trials in your life.
It has balancing properties which helps you to move away from extremes, and into more equitable emotional and intellectual perspectives.
Physically, you can use Pink Tourmaline to ease spinal injuries, migraines and general aches and pains. Also, it is helpful for the regulation of the menstrual cycle, and helps both girls and boys who are entering puberty.
All Tourmaline has the physical property of being pyroelectric, meaning that it can develop opposite charges at opposite ends of the crystal, when heated or cooled, creating a kind of static-electricity effect. Tourmalines are well-known in metaphysical circles as wonderful crystals for healing and protection. They are excellent for balancing the hemispheres of the brain, clearing away blockages, and transmuting negative energies.

1 x Pink Tourmaline in Organza Pouch with information card
♥ 
Eases Depression
♥ 
Fear
♥ 
Love
♥ 
Panic Attacks
♥ 
Peace and Peacefulness
♥ 
Relaxation
♥ 
Removes Energy Blockages
♥ 
Self Care
♥ 
Self Confidence and Self Worth
♥ 
Headache and Migraine Relief
♥ 
Hysterectomy
♥ 
Physical or Mental Abuse
♥ 
Reproductive Organs
♥ 
Reproductive Organs Uterus
♥ 
Spinal Injuries

♥ ♥ ♥ ♥ ♥ ♥ 

Primary Chakras: Root and Heart
Zodiac
-
Libra, Sagittarius and Scorpio

Element:
 Water and Fire
Affirmation:
I am accepting of Spiritual love.


♥ ♥ ♥ ♥ ♥ ♥
Whilst we always endeavour to describe the size and quality of our Crystal, Tumbled Stones and other Gemstone Products as accurately as we can, please understand because Crystals and Gemstones are natural minerals they each have their own beautiful and unique patterns and formations; therefore no two crystals or gemstones will ever be the same and each piece we sell is unique in composition.

Crystals have inclusions, which appear naturally in gemstones. Sometimes they can be accidentally mistaken as cracks, but they're actually minerals that have been trapped within the crystal as it has grown. Inclusions are perfectly natural and make each individual crystal unique. They're part of the crystal's natural beauty and history.

Please bear the above  in mind when ordering.