Red Jasper Crystal Heart 30mm - Energy, Protection and Healing - Crystal Healing - Gift Idea
---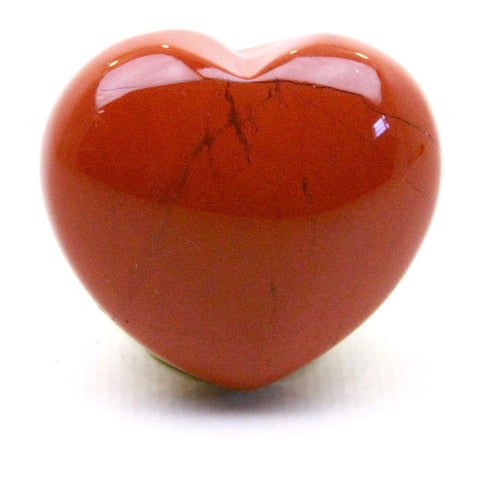 or make 4 interest-free payments of $3.50 AUD fortnightly with
More info
ENERGY 
cleanses and detoxifies the body and energies the soul. Releases energy gently and steadily, bringing wholeness and the feeling of complete. 

Red Jasper Heart presented in Velvet Pouch
Size: about 29~30mm long, 30~31mm wide, 12~15mm thick.

Jasper is an opaque chalcedony that comes in a wide variety of colours. ... Unlike most jasper which is a heavily banded variety of chalcedony, brick red jasper is almost one pure color. Jasper is a gemstone that has been used all over the world and often revered as sacred.
The energy of Red Jasper Tumbled Stones seems to hug you with its comforting essence. It supports you in strengthening your foundation so that you feel stable enough to start acting in your life. Working with it helps you to take on new pursuits, deal with conflicts and approach problems with creative solutions. All the Red Jasper stones will vary slightly in size, shape, color and pattern
Presented in Balck Velvet Pouch

More information on Red Jasper

Security
Stability
Personal Independence
Physical Energy
Transformation
Stamina
Endurance
Confidence
Identity
Justice
Fairness
Affirmation I am open to all that is around me and all that is within me.

Crystals and Gemstones are unique and each beautiful in pattern, please be aware that our images are for information purposes only as natural product their appearance and colour may vary from the images shown on the website