Rhodonite Crystal Gemstone Egg 50mm - Love of Self/Others, Vitality and Support - Crystal Healing - Easter Gift Idea
---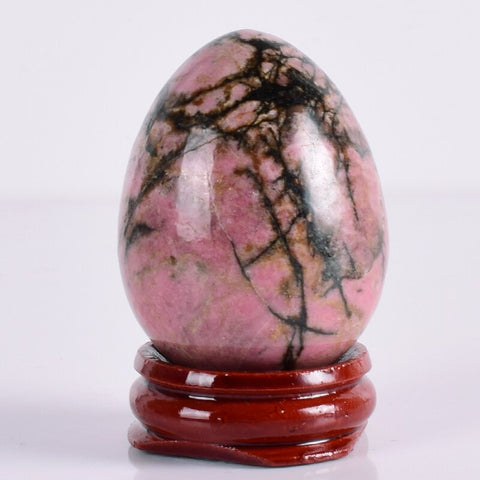 or make 4 interest-free payments of $11.25 AUD fortnightly with
More info
EMOTIONAL BALANCE 
nurtures love and has the ability to see both sides of the issue. Heals emotional shock and panic. Brings support to the Heart Chakra

Rhodonite Crystal Gemstone Egg 50mm (presented in velvet pouch NO Stand)

More information on Rhodonite  

♥ Calmness
♥ Self-confidence
♥ Refinement
♥ Gratefulness
♥ Elegance
♥ Delicacy
♥ Courtesy
♥ Tact
♥ Alternatives
♥ Inner path


Typical Colours red, pink, brownish-red, grey
Chakras
- Heart
Zodiac
 - Taurus
Planet 
– Venus
Element – 
Earth
Rhodonite is a stone of compassion, an emotional balancer that clears away emotional wounds and scars from the past, and that nurtures love.  It stimulates, clears and activates the heart. 

Rhodonite grounds energy, balances yin-yang, and aids in achieving one's highest potential.  It heals emotional shock and panic. 

Rhodonite aids in cases of emotional self-destruction, codependency and abuse.  It encourages unselfish self-love and forgiveness.  Promotes remaining calm in dangerous or upsetting situations.  Builds confidence and alleviates confusion.
Rhodonite relieves insect bites and can reduce scarring.  It aids bone growth and the hearing organs. 

Rhodonite stimulates fertility.  It treats emphysema, auto-immune diseases and stomach ulcers.  Eases inflammation of joints and arthritis.

We endeavour to describe and size our products as accurately as we can, but
Crystals and Gemstones are natural minerals each with their own beautiful and unique patterns and formations; therefore no two crystals or gemstones are ever the same and each piece we sell  is unique in composition.

Please be note, as natural objects their appearances and size can vary from the images shown on our website and they may contain tiny fissures and pits. 

Returns or exchanges are not accepted our crystal and gemstone products