Rhyolite Rainforest (Australia) Tumbled Stone - Protection, Strength and Spiritual Contact - Crystal Healing
---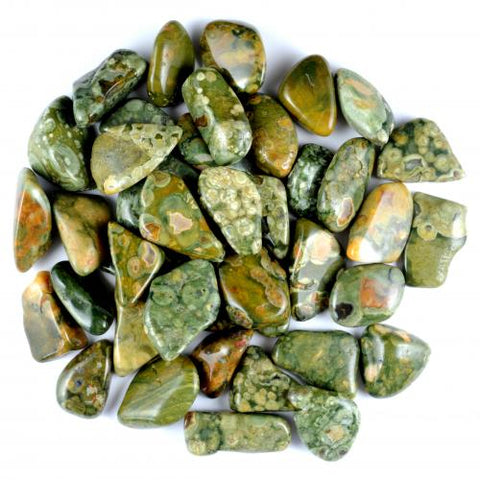 or make 4 interest-free payments of $1.00 AUD fortnightly with
More info
A balancing stone, Rainforest Rhyolite is recommended for help with issues of self-esteem and emotional strength..

The unusual patterns in this lovely, protective tumbled Rainforest Rhyolite, also known as Rainforest Jasper, is where this stone gets its power to heal.


Associated with the Heart Chakra, tumbled Rainforest Rhyolite is thought to help people deal with past-life issues, by helping one to see the relationship between karma and what is happening now, making these issues much easier to accept and work through.
Using Rainforest Rhyolite may help with healing old and deep emotional wounds in this lifetime as well.

1 x Rhyolite Tumbled Stone with Organza Pouch (information card not available at this time)

More information on Rhyolite


♥ Coping with changes
♥ 
Colds and Flu, Diabetes
♥ 
Immune System Strengthening and Support
♥ 
Kidney Disorders and Health
♥ 
Liver Disorders and Health
♥ 
Low Blood Pressure
♥ 
Muscle Toning
♥
Skin Infections and Irritations
♥ 
Varicose Veins

Affirmation: Love and joy permeate every cell of my body.

Chakras
- Heart and Root
Zodiac
- Aquarius
Whilst we always endeavour to describe the size and quality of our Crystals, Tumbled Stones and other Gemstone Products as accurately as we can, please understand because Crystals and Gemstones are natural minerals they each have their own beautiful and unique patterns and formations; therefore no two crystals or gemstones will ever be the same and each piece we sell is unique in composition.

Please be note: as natural objects their appearances and size may vary from the images shown on our website and they may also have tiny fissures and pits, please bear this in mind when ordering.