Rose Otto 3% in Jojoba Essential Oil 10ml - 100% Certified Organic - Ausganica
---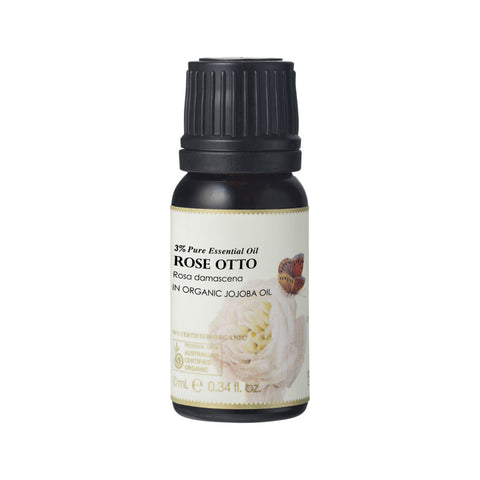 or make 4 interest-free payments of $6.00 AUD fortnightly with
More info
Emotionally, Rose Essential Oil may be helpful during times of stress. It is considered the choice oil for use during times of grief and may be beneficial for varying levels of anxiety. When used in low concentrations, Rose Oil may be helpful for insomnia and it is also considered an aphrodisiac. Therapeutically, Rose Essential Oil is heralded for nurturing maturing skin and for its use with menstruation, menopause and hormonal issues for women.

100% Certified Organic, Pure Essential Oil (Blended), Not diluted with carrier oils.

Ingredients

Rosa damascena

Usage

Diffusion 
- one of the most fun and common methods, that can be used by almost anyone especially on our wonderful range of Aroma Jewellery. To do it, simply place a small amount of oil onto the Bamboo Hemp Aroma Pads or Lava Beads for aromatherapy benefits that will last for hours

- This essential oil dilution can be used for massage, skin care beauty applications and aromatherapy. 
- On face: Add 1-2 drops of the essential oil dilution into base cream/lotion, gently apply to the skin. 
- On body: Apply the essential oil dilution directly onto the skin, and gently massage until fully absorbed. 

Please note: As this is already a diluted essential oil with jojoba oil, it is not suitable for use of aroma diffuser / hydro diffuser.

CAUTION:

 - Do Not Ingest. For external use only. Keep Out of Reach of Children. 
- Keep away from eyes and mucous membranes. 
- Recommended to do a skin patch test before applying topically. Do not use on broken / very sensitive skin. 
- If you are pregnant, nursing, taking medication, or have a medical condition, consult a health care professional prior to use.- Store below 30oC and in a cool, dry place. Avoid direct sunlight.