Rose Quartz Aura Crystal Heart Small 30mm - Love, Friendship and Partnership - Healing Crystal - Gift Idea
---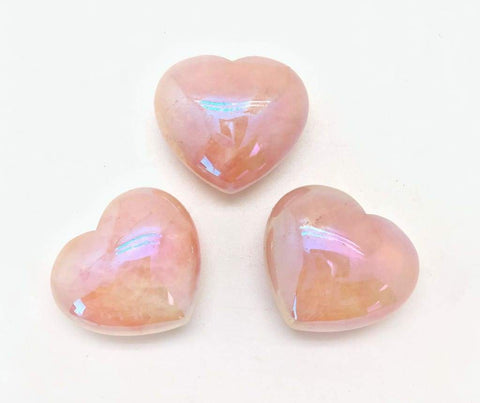 or make 4 interest-free payments of $4.75 AUD fortnightly with
More info
A 
Rose Quartz Aura Puff Heart
 reminds you that you are always surrounded by love. It holds the energy of unconditional love, beauty and friendship, making it a wonderful gift.

The price is for ONE Rose Quartz Aura Heart 30mm
- picture is a stock photograph for information purposes ONLY


Aura Rose Quartz carries strong love energies. Carry it to enhance your love for romance, friendships and life itself. When you connect with Aura Rose Quartz, you feel infused with the magic of love. This stone has all the natural Rose Quartz properties which are magnified by the metals used to create its flashy rainbow, pink sheen. By heat treating Rose Quartz with platinum, the crystal is transformed with a full spectrum of iridescent hues. The platinum brings its own grounding and amplifying properties that enhance not only the appearance of the crystal, but also its energy.


Rose Quartz: is known as the stone of unconditional love. It helps the user feel a strong sense of self-worth, therefore being worth love. Rose quartz is the stone of universal love. It is also the stone of love in marriage. When worn in jewellery the wearer feels a sense of self-worth. Rose Quartz opens the heart to compassion for self and for others, and raises self-esteem. Rose Quartz eases guilt and balances emotions, lowering stress and bringing peace. Use Rose Quartz to enhance positive self-affirmations.
The soothing energy of Rose Quartz fosters empathy, reconciliation, and forgiveness of others. Lowering stress and tension in the heart, Rose Quartz clears out anger, jealousy, and resentment of others, and allows healing of heart issues and dis-ease associated with holding on to such negative emotions. Rose Quartz is a calming and reassuring crystal. It strengthens empathy, sensitivity, and aids in the acceptance of necessary change. It is also an excellent stone for comforting grief. So it is powerful to help you to let go of tension, resentment, and is one of the ways to help you let go of stress
Crystals and Gemstones are natural minerals each with their own beautiful and unique patterns and formations; therefore no two crystals or gemstones are ever the same and each piece we sell  is unique in composition.

Please be note, as natural objects their appearances and size can vary from the images shown on our website and they may contain tiny fissures and pits. 

Returns or exchanges are not accepted our crystal and gemstone products