Rutilated Quartz (SMALL) Tumbled Stone - Healing, Enhancing and Amplification - Crystal Healing
---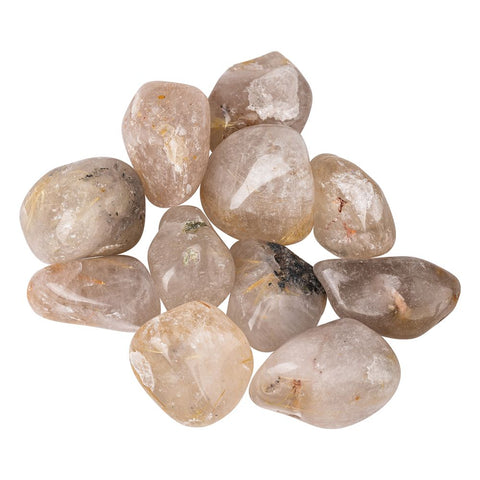 or make 4 interest-free payments of $1.00 AUD fortnightly with
More info
Rutilated Quartz is Clear Quartz included with needle-like pieces of golden or golden orange Rutile, a material made of titanium dioxide.

Rutilated Quartz puts off an exceptionally high level of energy, and is said to bring physical and mental balance and stability. 

Rutilated Quartz also enhances self-reliance and helps with decision-making. Use

Rutilated Quartz as a link between the Root and Crown Chakras. 

The Rutile that is included in Clear Quartz crystals is an interesting mineral in itself. It is believed to act as a type of antenna to offer attunement to the higher self, reception of Divine Universal energies, and acceleration of spiritual growth.

Rutile works with all the Chakras and is often used to enhance psychic abilities, clearing all energy blockages and bringing increased intuition. It can act as a conduit to transfer higher energies from the upper chakras down into the manifestation of the lower chakras.

1 x Rutilated Quartz in an Organza Pouch with information card.
♥ 
Acceptance
♥ 
Emotional Balance
♥ 
Emotional Healing
♥ 
Emotional Stabilizing
♥ 
Friendship
♥ 
Harmony
♥ 
Joy
♥ 
Perseverance
♥ 
Reducing Stress or Tension
♥  
AIDS/HIV, Burns
♥  
Dental Pain and Problems
♥  
Heartburn
♥  
Immune System Strengthening and Support
♥  
Kidney Disorders and Health
♥  
Memory Health
♥  
Pain Relief
♥  
Pineal Gland
♥  
Post Surgery Healing
♥  
Sleep
♥  
Thyroid Balance and Health
♥  
Vertigo
♥  
Vitality
Primary Chakras: All
Zodiac
- All
Element:
Spirit
Affirmation:
I feel energised and am aware of my surroundings.


♥ ♥ ♥ ♥ ♥ ♥
Whilst we always endeavour to describe the size and quality of our Crystal, Tumbled Stones and other Gemstone Products as accurately as we can, please understand because Crystals and Gemstones are natural minerals they each have their own beautiful and unique patterns and formations; therefore no two crystals or gemstones will ever be the same and each piece we sell is unique in composition.

Crystals have inclusions, which appear naturally in gemstones. Sometimes they can be accidentally mistaken as cracks, but they're actually minerals that have been trapped within the crystal as it has grown. Inclusions are perfectly natural and make each individual crystal unique. They're part of the crystal's natural beauty and history.

Please bear the above  in mind when ordering.