Sage Smudge Stick JOY with Dried Flowers (Medium) - Smudging - Cleansing - Protection - Sage Spirit
---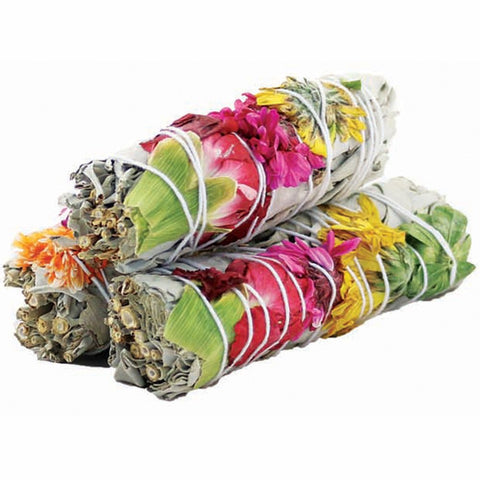 or make 4 interest-free payments of $2.75 AUD fortnightly with
More info
Our JOY Sage (salvia Apiana) and dried flowers smudge stick to bring joy and an uplifting sense to your space. It is most beneficial for a sleeping space, or stressful home.

Smudging,
the ritual burning of sage, is done to clear a space or person of negative energies. Sage is considered a sacred herb used for centuries by Native Americans in their 'smudging' ceremonies. 'Smudging' is the name given to the burning of these herbs for the purposes of cleansing and sending out prayers. Today, people are smudging to receive the benefits known to generations of Native Americans.


What are the benefits of burning sage?


Some of the purported benefits of burning sage include the following.
Removing bacteria from the air.
Repelling insects.
Improving intuition.
Purifying specific objects.
Improving mood and reducing

 

stress

 

and

 

anxiety. 
Caution: A lit sage stick should not be left burning while unattended and care should be used when extinguishing smouldering sticks.

Size - 11 × 5 × 5 cm