Selenite Towers - Intuition, Healing, Power and Protection - Crystal Healing
---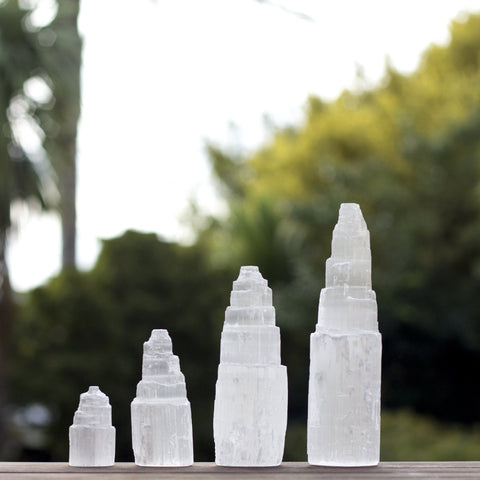 or make 4 interest-free payments of $4.25 AUD fortnightly with
More info
SELENITE 

a protective stone, Selenite shields a person or space from outside influences and it can be used in a grid around your home or in the corners of a room to create a safe and peaceful space. Selenite can evoke protection from the angelic realm and also dispels negative energy. Also, it removes energy blocks from physical and etheric bodies.

Physically, Selenite is said to reverse the effects of "free radicals" to heal and repair on the cellular level. Associated with the spine and the skeletal system, Selenite also can be used to mitigate problems with mercury fillings in dental work. Selenite is also good for breastfeeding. If you are seeking to strengthen your memory, you can also work with Selenite.


Selenite calms, brings deep peace, and offers access to past and future lives.
Selenite brings mental clarity, clearing confusion and revealing the bigger picture behind problems.
Size:
Small - 6cm
Medium - 10cm
Large - 15cm


More information on Selenite


♥ Serenity
♥ Purification
♥ Peace
♥ Meditation
♥ Universal consciousness    
♥ Clarity of thought
♥ Purity of heart
♥ Universal love
♥ Integrity
♥ Spirituality
♥ Psychic development
♥ Forgiveness
♥ Positive thoughts 


Affirmation: I am at one with myself, the Earth, and the Universe.
Chakras - Crown Chakra
Zodiac - Taurus
 
Whilst we always endeavour to describe the size and quality of our Crystal, Tumbled Stones and other Gemstone Products as accurately as we can, please understand because Crystals and Gemstones are natural minerals they each have their own beautiful and unique patterns and formations; therefore no two crystals or gemstones will ever be the same and each piece we sell is unique in composition.

Please be note: as natural objects their appearances and size may vary from the images shown on our website and they may also have tiny fissures and pits, please bear this in mind when ordering.