Shungite (Russia) Medium Tumbled Stone - Shielding, Grounding and Protection - Crystal Healing
---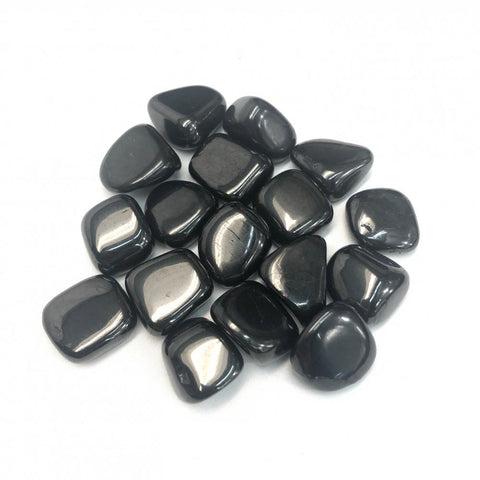 or make 4 interest-free payments of $2.00 AUD fortnightly with
More info
Elite Noble Shungite, a strong protective stone containing Fullerenes, 2 billion years old from Karelia Russia.

Not only does Shungite remove negativity, but will also rid the body of pollutants, bacteria, viruses and free radicals. Use Shungite to detoxify the body, bolster the immune system and relieve pain and inflammation. It can ease headaches and insomnia. Shungite helps with a variety of issues and ailments, from asthma and arthritis to chronic fatigue syndrome, pancreatic conditions and cardiovascular disease.  

Shungite, which looks similar to coal, has the ability of conducting electromagnetic and geothermal energy, and yet absorbs and shields the body from electromagnetic emissions such as those caused by computers, microwaves, Wi-Fi and the like. Shungite can also absorb negative energy and remove it from a person or even an entire space. It will replace stress and negative emotions into positive energy, while at the same time keeping the user grounded and protected.


Shungite is a hard-working, no-nonsense mineral. It needs to be recharged and cleansed on a regular basis in order to continue its work.
Note: Although this Shungite has been polished, when handling it carbon may rub off on hands and clothing.

1 x Medium Shungite Tumbled Stone with Organza Pouch and information card not 

More information on Shungite
PHYSICAL:
♥ 
Body Detox
♥ 
Immune System Strengthening and Support
♥ 
Inflammation
♥ 
Pain Relief
EMOTIONAL:
♥  
Dispel or Release Negativity
♥  
Grounding
♥  
Protection
♥  Absorbs Negative Energy
♥  Shields the Body from Electromagnetic Emissions
(Mobile Telephone, Computers, Microwaves and Wi-Fi

Affirmation: I am shielded from negative energies.

Chakras
- Root
Zodiac
- Cancer, Capricorn and Scorpio
Whilst we always endeavour to describe the size and quality of our Crystals, Tumbled Stones and other Gemstone Products as accurately as we can, please understand because Crystals and Gemstones are natural minerals they each have their own beautiful and unique patterns and formations; therefore no two crystals or gemstones will ever be the same and each piece we sell is unique in composition.

Please be note: as natural objects their appearances and size may vary from the images shown on our website and they may also have tiny fissures and pits, please bear this in mind when ordering.