Smokey Quartz Rough Stone - Stress, Anxiety, Depression and Emotions - Crystal Healing
---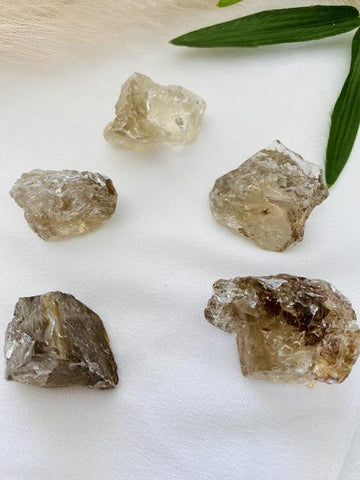 or make 4 interest-free payments of $2.50 AUD fortnightly with
More info
Smokey Quartz - the stone of endurance

1 x Smokey Quartz Rough Stone in organza pouch with information card

Size: 2-3 cm approx.
♥ Size and colour may vary.

Smokey Quartz is one of the most unique and powerful, yet most efficient grounding stones. It rules over the root chakra and helps one to re-establish a connection to the physical world. This crystal is perfect for someone who seems to have their head stuck in the clouds or  have lost touch to the physical side of life. Just go ahead and give them a Smoky Quartz. It t will help them regain mental clarity all while repairing their cellular structure/energy body. 

It gently neutralises negative vibrations and is detoxifying on all levels, prompting elimination of the digestive system and protecting against radiation and electromagnetic smog. 

Smokey Quartz disperses fear, lifts depression and negativity. It brings emotional calmness, relieving stress and anxiety.

Smokey Quartz was a sacred stone to the Ancient Druids and the Celts

All Quartz help improve the state of the human consciousness. However, Smokey Quartz has extra benefits due to its dark colour. Some of these benefits include: centering ones energy, purges distractions from the psychic world, helps regain mental focus and awareness and aids in removing clearing away negative energy.


Eases Depression

Grounding

Reducing Stress or Tension

Resentment

Dissipates emotional
mental, physical and environmental nega
Abdominal Problems
Balancing Problems
Body Balance
Cancer
Chemotherapy
Foot Problems
Headache and Migraine Relief
Infertility
Kidney Disorders and Health
Legs
Night Terrors and Nightmares
Pain Relief
Pancreas Health
Radiation
Remove Toxins
Skin Infections and Irritations
Tumours and Growths
Understanding Deathtivity

Affirmation: The flame of life is ignited within me.
Chakra's - Root and Solar Plexus
Crystal Birthstone: Scorpio, Sagittarius and Capricorn


We endeavour to describe and size our products as accurately as we can, but
Crystals and Gemstones are natural minerals each with their own beautiful and unique patterns and formations; therefore no two crystals or gemstones are ever the same and each piece we sell  is unique in composition.

Please be note, as natural objects their appearances and size can vary from the images shown on our website and they may contain tiny fissures and pits.