Snowflake Obsidian Double Point Necklace - Free Chain - Power • Healing • Protection • Determination - Crystal Healing
---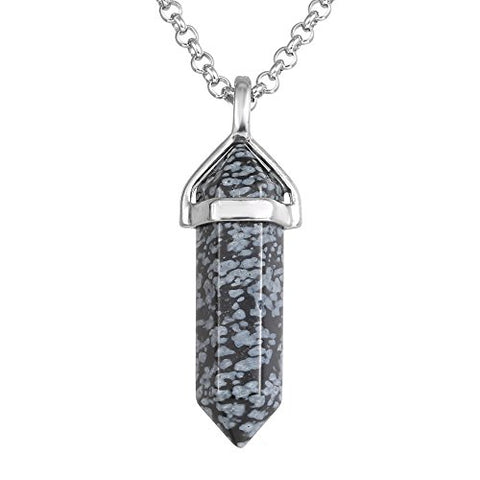 or make 4 interest-free payments of $6.75 AUD fortnightly with
More info
The Stone of Purity

Point Necklace Dimensions

Point 30mm
Total Height 40mm
Width approx 10mm
Chain 50cm (Stainless Steel)
Colour Black and Grey
Can also be used as a Pendulum
Presented in Black Velvet Pouch

♥ Change
♥  Inner-Self
♥  Self-Revelation
♥  Self-Evaluation
♥  Self-Awareness
♥  Self-Perfection
♥  Psychic Visions
♥  Dreams
♥  Reformation
♥  Balance
♥ Equilibrium
♥  Hope
♥  Optimism
♥  Soul Consciousness
♥  Equanimity
♥  Persistence
♥  Adaptability
♥  Focus
♥  Stability
♥  Acceptance



Chakras - All: Root and Sacral 
Zodiac - Capricorn and Virgo
Birthstone: 


SNOWFLAKE OBSIDIAN is well known for its substantial grounding and protection abilities. When it comes to negative energy it absorbs and shields any influence from external negativity as well as negative thoughts patterns or lower vibrations emitting from within the wearer. Any unwanted mindset is dispelled immediately and replaced with a more positive outlook.
SNOWFLAKE OBSIDIAN helps unveil the things buried deep in the unconscious. It brings conscious awareness to what needs mending in order to allow ourselves to progress mentally, spiritually and emotionally.
SNOWFLAKE OBSIDIAN offers a sense of unity to those whom feel alone or isolated. By just holding this stone one will begin to feel a sense of calm peaceful energy flow through their veins. It is such an experience to behold.
Crystals and Gemstones are unique and each beautiful in pattern, please be aware that our images are for information purposes only as natural product their appearance and colour may vary from the images shown on the website