Snowflake Obsidian Tumbled Stone - Balance, Centring and Support - Crystal Healing
---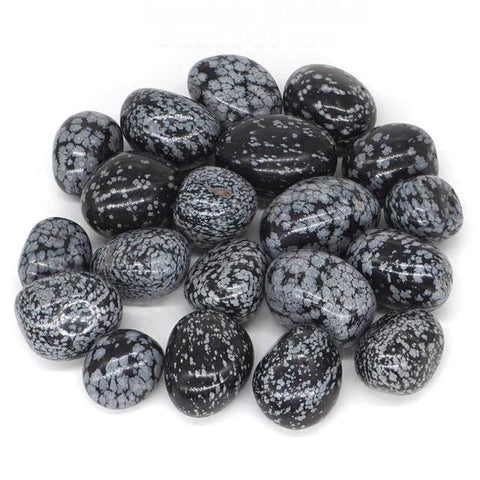 or make 4 interest-free payments of $1.00 AUD fortnightly with
More info
Volcanic in origin, Snowflake Obsidian helps to draw emotions to the surface and to examine harmful thought patterns. A good choice for past life work, Snowflake Obsidian heals old karmic patterns. Snowflake Obsidian can remove negativity from a space or person with ease.
Snowflake Obsidian promotes a sense of calm and inner centering which readies one for a deep meditative state.
A stone of purity, Snowflake Obsidian brings about a balance to body, mind and spirit. Snowflake Obsidian helps to keep centered and focused when any type of chaotic situation (office, commute, home, etc.) presents itself.
Snowflake Obsidian calms and soothes when working with the Sacral Chakra, and is also good for working with the Root Chakras.
Physically, Snowflake Obsidian is associated with the skeletal and vascular systems, and is said to support smooth skin.

Tumbled Snowflake Obsidian, is a black Obsidian with lacy white inclusions of the mineral phenocryst which remind many people of tiny snowflakes.

Presented in a Organza Pouch with Information Card
♥ Calming
♥ Loneliness
♥ Soothing

♥ Abdominal Problems
♥ Body Balance
♥ Digestion and Digestive System Health
♥ Ear Infections and Pain
♥ Hearing Problems
♥ Skeletal System
♥ Skin Infections and Irritations

 ♥ ♥ ♥ ♥ ♥ ♥ 

Primary Chakras: Root, Sacral and Solar Plexus
Zodiac
-
Virgo and Capricorn
Affirmation:
 I am strong and highly adaptable.


♥ ♥ ♥ ♥ ♥ ♥
Whilst we always endeavour to describe the size and quality of our Crystal, Tumbled Stones and other Gemstone Products as accurately as we can, please understand because Crystals and Gemstones are natural minerals they each have their own beautiful and unique patterns and formations; therefore no two crystals or gemstones will ever be the same and each piece we sell is unique in composition.

Crystals have inclusions, which appear naturally in gemstones. Sometimes they can be accidentally mistaken as cracks, but they're actually minerals that have been trapped within the crystal as it has grown. Inclusions are perfectly natural and make each individual crystal unique. They're part of the crystal's natural beauty and history.

Please bear the above  in mind when ordering.