Sodalite Crystal Gemstone Egg 50mm- Intuition, Focuses Energy and Guidance - Crystal Healing - Easter Gift Idea
---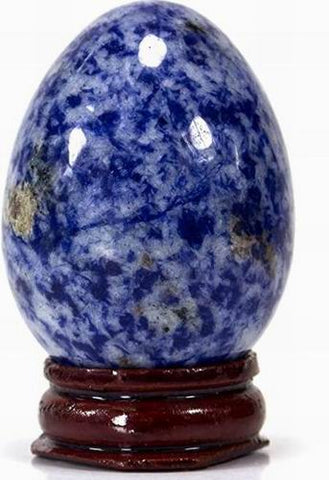 or make 4 interest-free payments of $11.25 AUD fortnightly with
More info
CLARITY 
calms and balances the mind, boosts confidence and self esteem and reduces insecurity. Helps increase intelligence, knowledge and learning.
Sodalite Crystal Gemstone Egg 50mm  (presented in Velvet Pouch NO Stand)

More information on Sodalite

♥ Logic
♥ Intelligence
♥ Emotional balance     
♥ Intuition
♥ Clarity
♥ Truth
♥ Perception

Typical Colours  Rich royal blue, green, yellow, violet: mottled with white veins or patches
Chakras
- Throat and Third Eye Chakra
Zodiac
-
Sagittarius
Planet 
–  Moon
Element – Water and Air
Sodalite brings order and calmness to the mind.  It encourages rational thought, objectivity, truth and intuition, along with verbalisation of feelings. 

Sodalite brings emotional balance and calms panic attacks.  It enhances self-esteem, self-acceptance and self-trust.  
Sodalite balances the metabolism, boosts the immune system and overcomes calcium deficiencies.  It combats radiation damage by soaking up electromagnetic smog. 

Sodalite treats the throat, vocal cords, larynx and helps with hoarseness and digestive disorders.  It cools fevers, lowers blood pressure and stimulates the absorption of body fluids. 

Sodalite can also help to prevent insomnia

We endeavour to describe and size our products as accurately as we can, but
Crystals and Gemstones are natural minerals each with their own beautiful and unique patterns and formations; therefore no two crystals or gemstones are ever the same and each piece we sell  is unique in composition.

Please be note, as natural objects their appearances and size can vary from the images shown on our website and they may contain tiny fissures and pits. 

Returns or exchanges are not accepted our crystal and gemstone products