Sodalite Double Point Necklace - Free Chain - Intuiton • Focuses Energy • Guidance • Clarity - Crystal Healing
---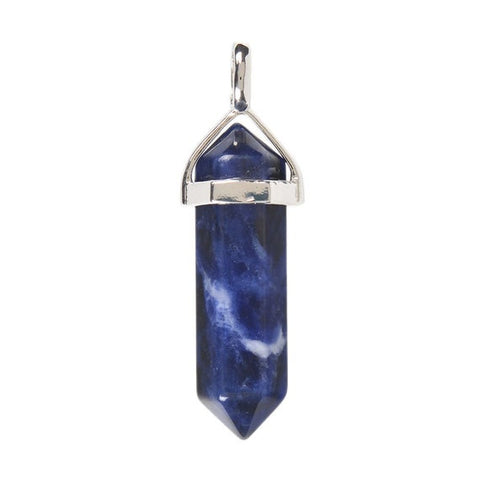 or make 4 interest-free payments of $6.75 AUD fortnightly with
More info
CLARITY calms and balances the mind, boosts confidence and self esteem and reduces insecurity. Helps increase intelligence, knowledge and learning.

Point Necklace Dimensions

Point 30mm
Total Height 40mm
Width approx 10mm
Chain 50cm (Stainless Steel)
Colour Indigo Blue, Dark Blue - White
Can also be used as a Pendulum
Presented in Black Velvet Pouch

♥  Intuition
♥  Creativity
♥  Expression
♥  Communication
♥  Mental Clarity
♥  Imagination
♥  Self-Expression
♥  Self-Assurance
♥  Energy Focus
♥  Pineal Gland
♥  Endurance
♥  Guidance
♥  Consciousness
♥  Automatic Writing
♥  Willpower
♥  Motivation
♥  Self-Empowerment
♥  Self-Trust
♥  Inner Peace
♥  Calmness
♥  Emotional Balance


Chakras
- Throat, Third Eye and Crown
Zodiac
-  Sagittarius
Element
- 
SODALITE is an excellent stone for writers, or anyone creative, as it bridges a conscious connection into the sub-conscious mind. The energy of this stone has the ability to boost mental performance, enhances inner insight and accelerates the ability of intuition.
SODALITE is capable of boosting ones ability to trust their own instincts and judgement.
SODALITE is an ideal gemstone for athletes due to it's ability to enhance our endurance and our willpower filling us with extra motivation to reach your goals.
SODALITE helps release ourselves from old conditioning and programming of the past
It actually has the power to purify the organs and make them work to their fullest capacity.
SODALITE heals the Aura as it removes any negative feelings tied to the heart
Crystals and Gemstones are unique and each beautiful in pattern, please be aware that our images are for information purposes only as natural product their appearance and colour may vary from the images shown on the website