Strawberry Quartz Tower Generator Obelisk - Point- Wand - Crystal Healing - Gift Idea
---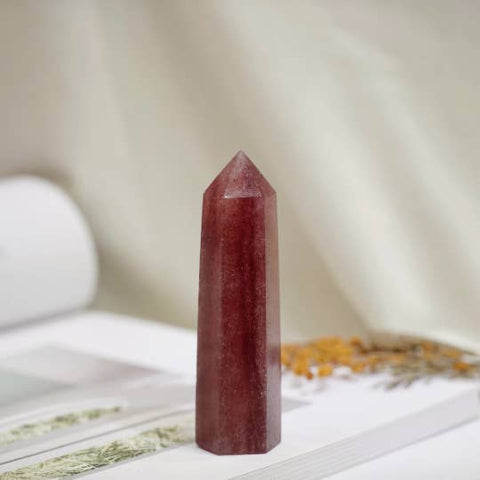 or make 4 interest-free payments of $6.00 AUD fortnightly with
More info
 crystal tower can be 6 or 8 sided with a flat base for it to stand. Towers can be carved and polished into this shape or they can be made from a natural crystal point like Quartz, Amethyst, or Citrine by cutting the bottom to be flat so it can stand.


The energy of a crystal tower is directed upward and out. Wherever they are placed they emit a very focused and directional energy that affects the area around it as well as any other crystals that are nearby.
Strawberry Quartz Generator Obelisk
Size: about 2 cm wide, 7.5 cm high
with information card
More information on Strawberry Quartz

Working with Strawberry Quartz can stabilize an unbalanced energy field, and bring guidance to the Higher Heart.
For those who work in a fast-paced environment, Strawberry Quartz can be soothing and calming.

The energy of Strawberry Quartz brings forth a powerful sense of vitality and balanced with a soothing sense of Universal Love. Strawberry Quartz has the ability to amplify intentions of love, gratitude and generosity, and can radiate those vibrations outward.
Some wear Strawberry Quartz when trying to attract a soul-mate. However, be aware that "soul-mate" doesn't mean "exactly like yourself". Often, our soul-mates are those people who can really test us and show us where we need work.
For those who feel a need for constant contact, these Strawberry Quartz crystals are perfect for carrying in the pocket or purse, for regular access to these warm energies.
It is helpful to work with Strawberry Quartz when undergoing a spiritual crisis or when on a spiritual quest. For new initiates on the spiritual path, Strawberry Quartz can help you to gain insights into your persona and inspiration regarding how to improve on it. It can also help when learning about past lives and astral travel, gathering information on these endeavours.
It can bring exciting new discoveries about the genesis of the Universe, and the calmness needed to assimilate this knowledge in an appropriate way, and turn it into wisdom. Strawberry Quartz is a great facilitator of gaining hidden knowledge.

♥ 
Gratitude
♥ 
Love
♥ 
Patience
♥ 
Trust
♥ ♥ ♥ ♥ ♥ ♥
Strawberry Quartz shares the same healing properties as Clear Quartz with the additional focus on Universal Love! 

Strawberry Quartz is a rare from of Quartz which is quite a stone to behold. These pieces have a deep strawberry colour, and while it is very powerful, the vibration of Strawberry Quartz is actually quite gentle.
Chakras
-Heart
Zodiac
- Libra
Planet 
–  Venus
Element
 – Water
Affirmation
- 
I I am understanding.
Typical colours
 - Pale Pink / Red
♥ ♥ ♥ ♥ ♥ ♥
Whilst we always endeavour to describe the size and quality of our Crystal, Tumbled Stones and other Gemstone Products as accurately as we can, please understand because Crystals and Gemstones are natural minerals they each have their own beautiful and unique patterns and formations; therefore no two crystals or gemstones will ever be the same and each piece we sell is unique in composition.

Crystals have inclusions, which appear naturally in gemstones. Sometimes they can be accidentally mistaken as cracks, but they're actually minerals that have been trapped within the crystal as it has grown. Inclusions are perfectly natural and make each individual crystal unique. They're part of the crystal's natural beauty and history.

Please bear the above  in mind when ordering.