Tuscan Essential Oil Blend 10ml - ECO Aroma
---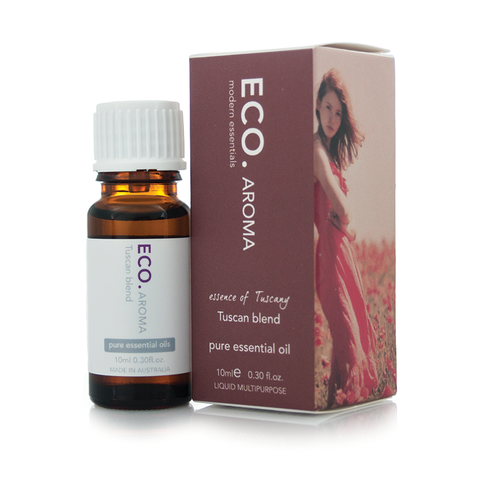 or make 4 interest-free payments of $3.50 AUD fortnightly with
More info

Product Description

citrus paradisi (grapefruit) oil, pelargonium graveolens (geranium) oil, citrus aurantifilia (lime) oil, citrus aurantium (petitgrain) oil, viola odorata (violet leaf) oil
Tuscan Essential Oil Blend
Rich, complex and warm hearted, the ECO. Tuscan Essential Oil Blend combines notes of Grapefruit, Geranium, Lime and Violet Leaf to inspire your inner bella.
Whether at home or work, the robust Tuscan Essential Oil Blend will calm your mind and let you imagine days roaming winding roads and grassy knolls. 
Formulated with only the most natural and pure ingredients, ECO. aromatherapy essential oils are designed to give you the most exquisite experience possible.
Directions:

Bath: add 3-5 drops of essential oil to a full bath before immersing yourself in the warm water

Shower: sprinkle 1-2 drops of essential oil on your shower recess floor and let the sensual scents wash over you

Burner: add 5-6 drops of your essential oil to a burner dish or vapouriser for a subtle scent

Massage: seduce (or be seduced!) with 3-5 drops added to the massage oil of your choice, for a luxurious experience