Unakite and Lava Stone Aromatherapy Diffuser Bracelet - the stone of couples
---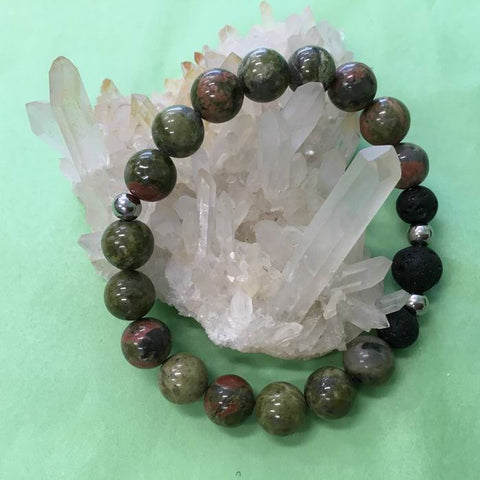 or make 4 interest-free payments of $8.50 AUD fortnightly with
More info
High Quality "Unakite and Lava" Essential Oil Aroma Lava Diffuser Bracelet

Designed and Handcrafted by us in-store using only the finest high quality Natural AAA Grade Crystals, Gemstones and Lava Beads. 

DESCRIPTION  
Our Unakite and Lava Lava Aromatherapy Bracelet is a stunning Gift Idea and is handcrafted to last, we use only the finest quality AAA Grade Crystals, Gemstones and Lava beads, as well as looking gorgeous they offer you the additional beautiful benefits of Essential Oils and the Spiritual Benefits of Crystals/Gemstones - Anywhere, Anytime

Lava beads begin their journey to your jewellery as molten rock beneath an active volcano. At over 1,000 degrees Celsius the molten rock begins to melt and finally erupts out of the volcano. Once the lava meets the cooler air it solidifies and becomes this beautiful piece of jewellery. 

Lava Stone - Strength | Courage | Calming | Grounding

Unakite - the stone of couples
Unakite has this calm energy that encourages self-love. It helps one to see the beauty behind their flaws, along with the flaws of others. This allows for one to openly radiate love, which then attracts love from others. It fills one with an unconditional bond of love for all inhabitants of Earth, which signifies "what comes together belongs together". It promotes peace, connection and reunion.
Chakra's - Solar Plexus, Heart, Higher Heart and stimulates Third-Eye
Crystal Birthstone: Scorpio, Gemini and Libra
DETAILS
Type: Lava Bracelet - Add a few drops of oil directly to the porous lava stone and aroma lasts for days!
Diffusing Method: Lava Stone 8mm and 10mm  
Gemstone: Genuine Round Unakite Gemstones 10 mm
Fits Wrist Size: 20 cm 
Presented in Black Velvet Pouch
Stretch: Moderate
1 Year Warranty

Crystals and Gemstones are unique and each beautiful in pattern, please be aware that our images are for information purposes only as natural product their appearance and colour may vary from the images shown on the website
Add a few drops of your favourite essential oil to the porous lava stones on the bracelet.
The aroma will last for about 3-4 days on the Lava Stone
You can top up at anytime or wait until the current essential oil has diminished and add another. You can also add up to three separate oils on the Lava Stones to create your own unique blend.