Vanilla Mozi Insect Repellent Soy Wax Candle - Spearmint and Vanilla - Large - 500m
---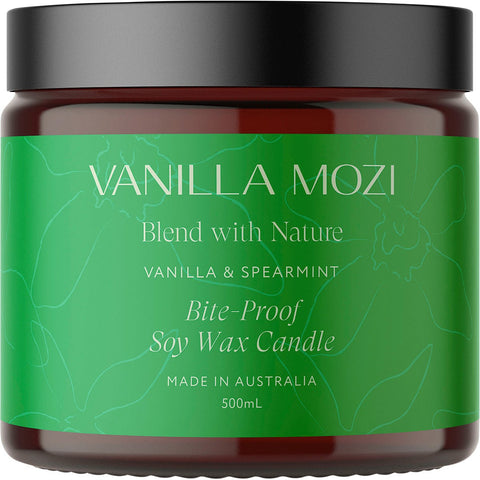 or make 4 interest-free payments of $7.25 AUD fortnightly with
More info
Style, Purpose and Protection with Vanilla Mozi Candles
Your home will smell beautiful with the wonderful aroma of Vanilla Mozi while keeping your family, friends and outdoor areas free from those pesky mosquitos.
This lovely candle has a minimum burn time of 45 hours.
Protects Naturally.


What do the Vanilla Mozi Candles do?
Vanilla Mozi Candles and Melts repel mosquitos and other insects.  It is very easy to get confused, as the Vanilla Mozi candle smells SO good.  We are not yet accustomed to mosquito repellents actually smelling good and being effective at the same time. The candle works best in conjunction with the Vanilla Mozi skin cream.

What is the 'yellowing' that l am seeing with my Candles/Melts?
The 'yellowing' occurs when the Spearmint Essential Oil reacts with UV (sunlight), similar to the yellowing of spearmint leaves in Summer.  So depending where you store the candles, you may or may not experience this change.  It makes no difference to the effectiveness or scent of the product.  

Burning instructions
Please always follow burning instructions to get the most out of your Vanilla Mozi Candle. The first time you burn your candle is called a Priming Burn. You will need to burn it for at least 1 to 2 hours or until all of the wax in the top of the jar is melted. After the priming burn you can burn your candle as little as you like. However this first prime burn will stop the candle from tunnelling down and you will get many more hours from it. Please also rotate your candle every so often to help distribute the wax evenly. It is not uncommon for there to be excess wax after your candle has finished this does effect the candle and is normal.
Safety instructions
Please burn away from flammable materials, drafts and heaters/fans .  Keep out of reach of children and pets. Never leave a burning candle unattended. Please keep candle free of dust and debris.  DO not replace glass lid onto candle directly after being used, as this can cause breakage. Failure to follow these instructions can result in fire hazard.